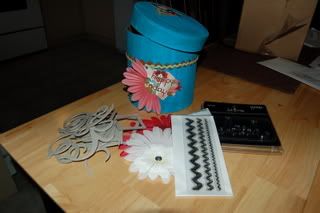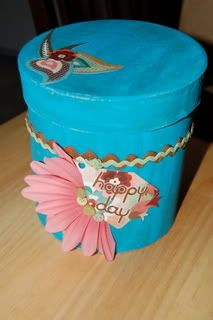 Don't you just love it when you go to the mailbox and get something other than bills?
I picked up a package yesterday from my Happy Mail partner
Cammeron
(well, it got here earlier in the week but couldn't pick it up since I was out of town----sorry Cam!!). For those of you who don't know what "Happy Mail" is, it was started by a girl over on 2 peas. We got a partner and the intent was to send cards and or small gifts over the month----Happy Mail.
My cool and generous partner sent me a beautiful altered container filled with chipboard, Heidi Swapp flowers, Heidi Swapp stamps and a set of Ric Rac stamps. I am overwelmed at the generousity of my on line "friends".