Could the season of shovelling hell finally be done? Could flip flop season be just around the corner?
Today was an absolutely gorgeous day outstide. The temperature was a nice balmy 16 degrees C (60 ish for my American friends) and couldn't be nicer! Who would have thought we go from snowy and blowy to the big melt in less than a month!
Guess it's time to go for a pedicure since sandal season is obviously near.
Check out these photos (the one on the left taken 02/14 and the other one today):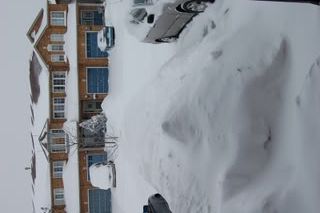 The last couple of days have been great mail days. Yesterday I got a gorgeous card from my "Happy Mail" partner
Camm
eron
from Two Peas. Today I got my March Scraptivity kit with lots of sparkly goodies and some cool new Cherry Arte papers.
On a sadder note.....Two Peas has been down all day today. What's a girl to do without her daily fix :( Guess I'll actually get some scrapping done tonight LOL!