This month's two main featured products are
Paper Salon
stamps (Tailored Tins--Small Talk) and
Basic Grey Stella Papers
.
For my first project, I was inspired by the sewing/pattern theme of the Stella Ruby papers and I created this altered Sewing Kit tin.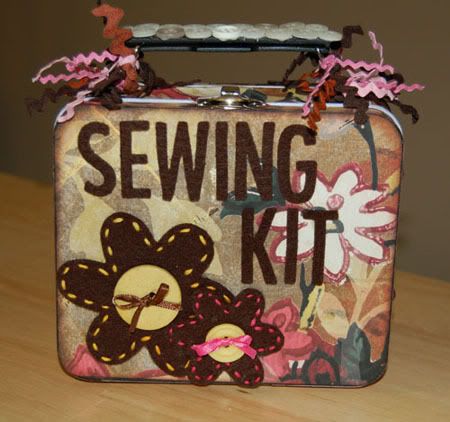 I covered a small lunch tin with Stella Ruby "Shopping with Dorothy" (1 sheet required). The felt flower embellishments were punched out of regular craft felt using the large Sizzix daisy die. I stitched the outside of the flowers with coloured embroidery floss and added a button and bows to the center.
The lettering was also created out of craft felt. I used the Quickutz Studio (Classic) alphabet for this title (remove the foam from the dies in order to cut the felt).
To complete the project in the sewing theme I added buttons to the handles and tied ric rac of various colours and sizes to the handle. On the sides I added some prima flowers with button centers on the side.
For my second project I created a baby card using the Paper Salon stamps and some printed ribbon provided by the store.
Instructions: Create a 6 x 6 square card using cardstock. Stamp baby sentiment stamp on complimentary cardstock, punch out using large circle punch and colour in stamp as desired. Add a coloured baby pin to the punched circle and loop printed ribbon through.
Adhere ribbon in a straight line to the card and add a bow. Create scalloped border using
QK Lace die (RS-0380)
by gluing two punched shapes together. Repeat until square is formed. Add rhinestones around the square and adhere frame to card. Cut welcome baby using cardstock and QK Abigail alphabet.