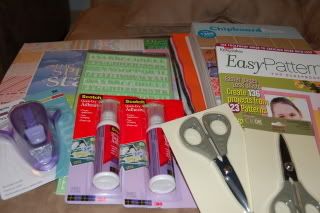 DH and I decided to go shopping over in Buffalo today (o.k. maybe it was my
persuasive
ways
LOL
). I needed some Scotch glue (which is
wayyy
cheaper over there) and just to check out the newest scrapping stuff at
Joanne's
and A.C. Moore.
OMG
, I *LOVE* shopping stateside! The prices are just so amazing and the selection is just WOW! Can you believe that EVERYTHING in the paper crafting department at Joanne's was 40% off. Yep, 40%!! Needless to say, I picked up lots and lots of goodies (thank you work bonus!!)
There are some new
Fiskars
Clear Stamps that are just awesome. They were on sale for about $8 and there are
soooo
many stamps on the sheet. The sheet is about 8 x 8 and is completely full of sentiments or themed stamps. Totally worth the money.
I was also able to pick up the Easy Patterns for
Scrapbooking
(by CK) for 40% off of the U.S. cover price of $14.95. Up here the cover price is $23.95----like seriously how can the price difference be so big?
On the way home, we had a bit of a fender bender on the Peace Bridge. Some old lady backed into us at a green light----yep REVERSED into us while the light was green.
WTF
? We called the Buffalo police to fill out a report because we wanted something in writing to show it was her fault. The entire front bumper of our
CRV
will need to be replaced and I'm sure we're looking at over $2K probably more. The lady admitted to the cop that she backed into us and
accidentally
hit the accelerator instead of the brake. Let's just hope it doesn't affect our insurance! So basically the one hour drive to save $5 on glue is going to be a wee bit
mor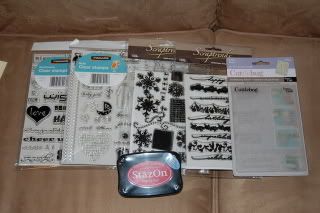 e expensive!!!
Here's some pics of my goodies...check out that awesome chipboard stack from Joannes (a bargain at $12.88) and all the great 40% off specials I got. Also got the
DCWV
Spring stack for only $8----I wanted some St.Patrick's day paper and the whole pad of 180 sheets costs less than if I bought a few at the
LSS
up here. The CB embossing plate was under $3 and the scissors were around $2 a pair! I can't wait to play with all my new goodies.