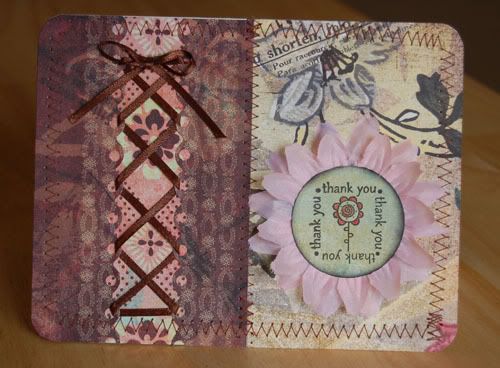 I used the sewing/pattern inspiration from the Stella Ruby papers and created a laced up design on this card.
The laced designed was created by using an EK Success corner rounder and I punched holes in the middle of each round. I glued the two pieces to the card and laced up the middle with silk ribbon.
I stamped the Paper Salon Thank You stamp and punched out with a large circle punch before adh
ering to the center of two silk flowers.
I also created a purse card using Stella Ruby papers. The purse is created using the Coluzzle Purse template. After cutting out, I stamped the handle with Gel-a-Tins Build A Flourish Stamps. I added beaded trim, some ribbons and a flower with a Paper Salon sentiment stamped in the middle. I just *LOVE* creating these one of a kind purse cards with the Coluzzle template.