We had a little mini cropThursday night at Scrapalicious where we got our monthly kits for May and had some time to socialize and get some crafting done with the other DT members and Lancia (the owner)......well.....we did spend more time socializing and eating dinner than working LOL! I got a bunch of cards started for my Happy Mail girls over at 2Peas-----Just have to finish embellishing and I hope to get them out this weekend.
Now, getting back to the DT kit: This month, I get to work with the Doodlebug Black and White collection and a variety of other love/black and white related items. I *LOV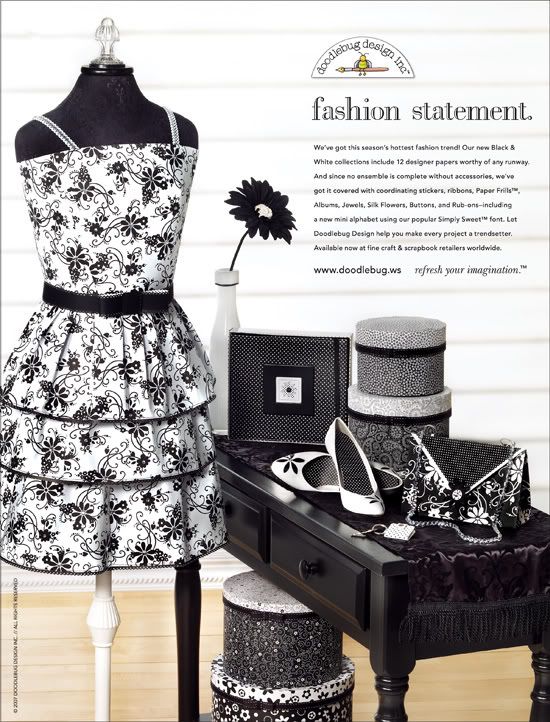 E* this line of paper. Super fun and the black and white designs make it *perfect* for wedding layouts. Doodlebug is a pretty difficult line to find in this area and I was super excited to see some of the collection at the store. Scrapalicious got in about 8 or so of the patterned lines, some of the embossed papers and the glitter papers. Hopefully I'll be able to find and buy the rest of the papers in this super fun line somewhere---I see myself buying a lot of this paper if I can find the rest! Lots of ideas are running through my head on this one.
In addition, all the DT members got a page kit to work on. We were all given the exact same supplies (with photo) and we have to create a layout. When they are displayed in the store, the customers have to try to guess which DT member completed the page. There is some BG Romani paper in there, some other flowers and felt embellies and a photograph of a sunset. It should be really fun to see what we all come up with using the same stuff.