I was working on my final DT assignment for Scrapalicious today. I was given a QK Silhouette download card and got to chose from a number of really cute shapes.
For my first project, I did this elephant card. The elephant was downloaded from the QK web site. The papers are from the Basic Grey baby line. The sentiment stamp is Fiskars and I made a sort of ribbon flower around the outside. I added some Stickles to the outside of the sentiment.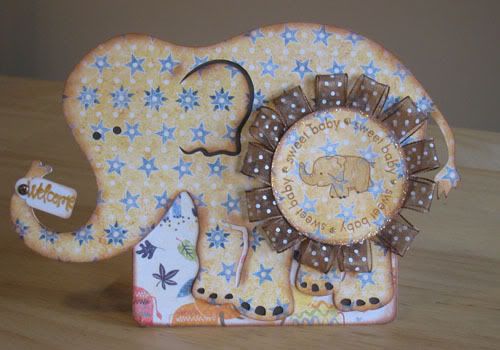 The challenge of this card (and let me tell you it took longer than some of my layouts!!) was figuring out how to get it to stand up and make the elephant stable. So I mounted the beast to a 4 x 4ish card and voila!! I think this turned out so cute and there will be more elephants in my future.
As for where I've been for the last month or so nothing too exciting.......let's see I was in New Jersey on a business trip for a week in mid-July. Pretty hectic trip and I only got to pop in to AC Moore a few times so no good shopping this time.
DH and I spend a few weekends at friend's places for some bbq get togethers and met my mom for lunch a few times on my Friday off. My mom finished her last chemo treatment last week so I'm looking forward for things to get back to normal for her.
I've also been spending a fair amount of time on crackbook.....I mean facebook......I've been lucky enough to talk to a number of people who've I've lost track of over the years.
Finally of course there's tennis. DH and I played in the club mixed double's championship in mid July as well. We made it to the semi-finals of the consolation round but I had to retire due to sun/heat stroke. We had played FOUR matched in one day in the blazing sun. I'm pretty sure we could have won the match but then we would have had to play ANOTHER match (for a total of 5) and I don't think it would have been good. Oh well, there's always next year.
So that's my update.....thanks for stopping by and in the fall I promise to keep things up to date a bit better :)