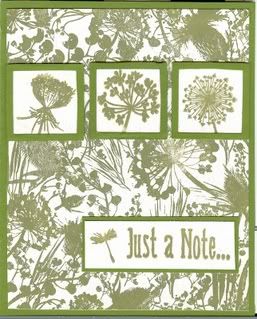 When I was at the Creative Festival in Toronto a few weeks ago, I pick up this gorgeous new botanical background stamp from
Chapel Road Art Stamps
. I've never made a 100% stamped card before and I'm quite pleased with how this turned out. I definitely want to get some more large background stamps in the future!!
The other stamps on the card are
Gel-a-Tins
,
Tin Box Creations
(sentiment) and
Technique Tuesday
. I used green chalk ink and the
cardstock
actually is an identical match
IRL
to the ink (the scan is a bit off in colours).
Thanks for looking!