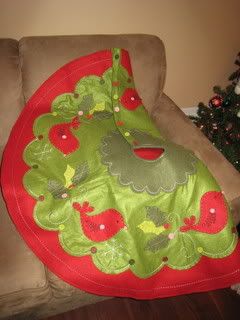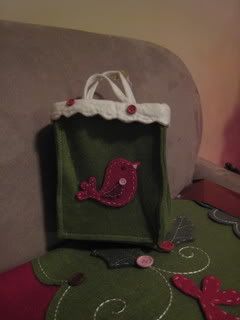 I was out finishing my Christmas shopping at the mall on Monday night and I saw some positively CUTE felt decorations at
Carlton Cards
. I picked up a few felt bags for wrapping gifts and a few ornaments to use as gift tags and for my tree which already is loaded with felt snowmen.
I hit the jackpot at the second Carlton I went to when I found this amazing birdie tree skirt and more designs of the ornaments. I must say I'm totally in LOVE with all this
feltie
cuteness! They also have some throw pillows that I'm debating on picking up today on my way home but I haven't decided yet.
Oh and the best part.....all the stuff is already 50% off!! I got the tree skirt for only $17 and the ornaments are only a $1 a piece!!
So RUN to your local Carleton Cards to pick up some of these today :)
Oh and excuse the poor photos but my beloved
dSLR
has decided it needs a visit to the repair shop (the flash isn't firing at all). What great timing huh?!?