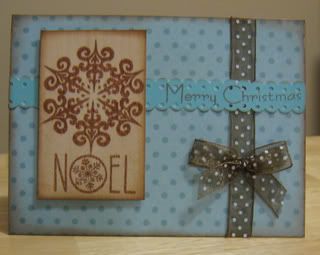 On the weekend I went over to my friend house to make some Christmas tags. She's a rookie at the whole paper craft thing, but happened to have some really cool wood chips with her Christmas wrapping. We tried stamping on them and I really think they look super cool!! Chalk inks worked the best as some of the dye inks did bleed a little.
The chips are from
Lee Valley
. I'm definitely heading there to see if they still have any.
I made two cards with them. The first Noel card was made using Memory Block papers from my scrap bin, Doodlebug paper frills, Offray ribbon, BG Figgy Pudding stamps, MSE stamp and Unique Pages custom stamp.
On the second card I used the new
Gel a Tins
Christmas stamps and Figgy pudding paper.