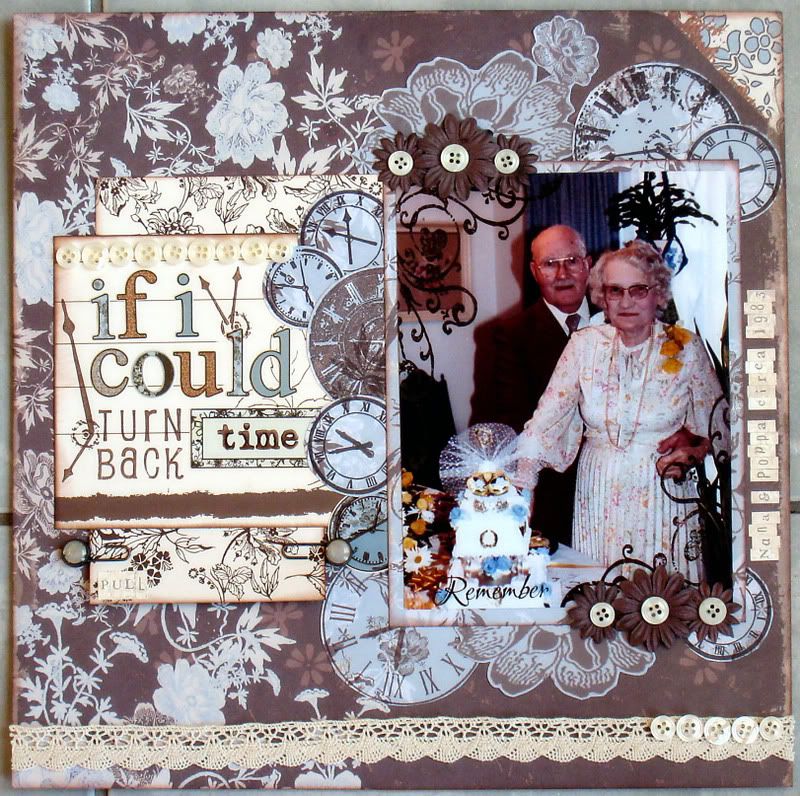 I was digging through my photos last week and came across this photo of my grandparents. As soon as I saw it, I thought immediately of the Websters Pages papers from my stash.
Papers and stickers: Websters Pages Stamps: Inque boutique stamps: 50439 Mini Cupcake alphabet, 50469 Mini Magestic Flight, 50339 It's about Time
Other: lace, Prima flowers, buttons, decorative paper clips
I stamped flourishes and Remember stamps directly on the photo with Staz On Ink. I stamped various clocks onto some blue floral paper and cut them out to place around the photo. I used letter stamps for the "turn back" part of the title and the "time" is from the It's about time stamp set. I added some clock hands from the set to the title block. I also hand cut some flowers out of one sheet of paper to add around the photo. Added lots of buttons and a strip of lace across the bottom. The journalling is hidden behind the title block and pulls down with the vintage paper clips.