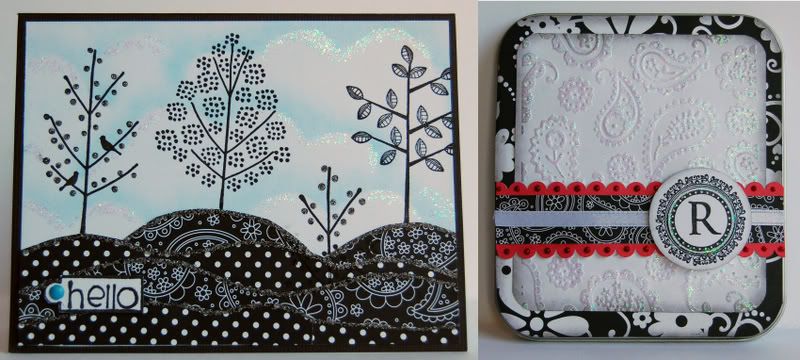 I'm participating in the "Iron Chef" contest over at
Scrapper's Haven
. Basically it works just like the TV version where each week the best scrapbooking "chefs" advance to the next round. This week the secret ingredients are: chalk, glitter and black and white paper.
OK, glitter and black and white paper are no problem but chalk.....talk about a flashback to five years ago LOL!
So the task is to create a layout, a card and an altered project using the ingredients. So far I've finished my card and the altered item.
For the card I used the chalk to create clouds for the background. Then I added some glitter (Stickles) to the clouds and to the ground hills that I made out of black and white paper. I used my newish Hero Arts tree stamps on this card.
For the altered item I created a monogrammed tin that holds a set of monogrammed notecards. I used the chalk for distressing and I added glitter to the embossed portion of the white cardstock.
Now I just have to finish my layout before the deadline (I'll post it later). Wish me luck!!