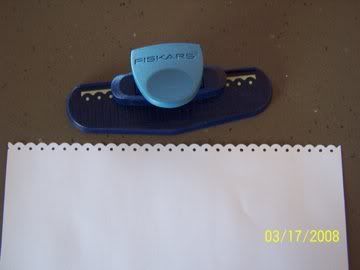 I went to Michaels this afternoon to spend my 50% off coupon and I found the much-sought-after Fiskars Threading Water punch!!
I have been DYING to get my hands on one of these babies and looked at about 10 Targets and craft stores on my last trip to the States.
Anyways, they are priced at $24.99 (which is totally ridiculous considering they only cost $9.99 in the States) but there is a 50% coupon all week. And think of all the money you'll save by making your own scalloped paper!!
Look for some projects using my new baby soon!!