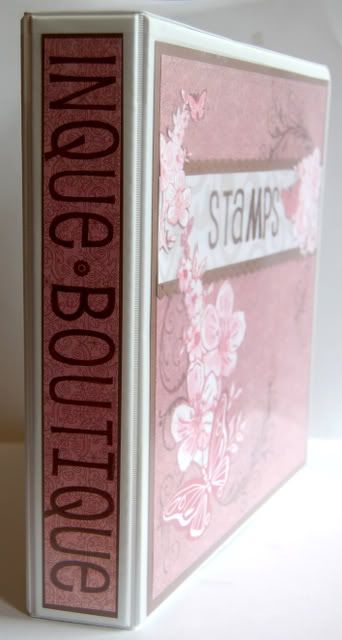 I finally got my hands on some of
Inque
Boutique's 8.5 x 11
Stamp Keepers
. For those of you not familiar with them, they are clam shell type packaging that have holes so you can store in a regular office binder. You can stick your stamps to both sides of the keeper so you can fit A LOT of the
Inque

stamps
in one of the Stamp Keepers. I paid about $2.75 Canadian for each of the keepers at my
LSS
. They also come in 12 x 12 size which would be great for the bigger sets of stamps.
So after spending an evening of carefully arranging all my
Inque
stamps in the keepers, I decided to alter the office binder that I'm storing them in.
I used my June
DT
kit from the
Scrapping Turtle
for my project. All the papers are from the
SEI
Jolie
Chocolat
collection and I used
Inque
Boutique stamps for labeling and embellishing.
I'll also give you a bit of a review while I'm at it. Here's the pros and cons of this storage system.....
Pros:
-You can fit a TON of sets of stamps in each
clamshell
with careful placement of the stamp
-With the
Inque
stamps you can easily see what the stamps are as you flip through your binder
-You can fit approximately 5 Stamp Keepers in a regular 1.5
ish
" office binder
-The Stamp Keepers snap closed so your stamps stay in one place (see below)
-The Keepers also work very well for other clear stamps (I used an extra one for some Gel-a-Tins as well as Basic Grey)
Cons:
-When using both sides of the Stamp Keeper (e.g. sticking stamps to each side of the keeper) it's a tight fit and they don't necessarily snap closed
-If you only put one layer of stamps this would be a fairly costly storage system (however I used both sides so I'm happy with the cost based on the number of stamps I was able to fit)
-I found some of the
Inque
Stamps don't stick well to the Keepers and keep falling off. I have this problem with the really small sets
Overall I give this system 3 out of 4!